The Q2B Partnership advantage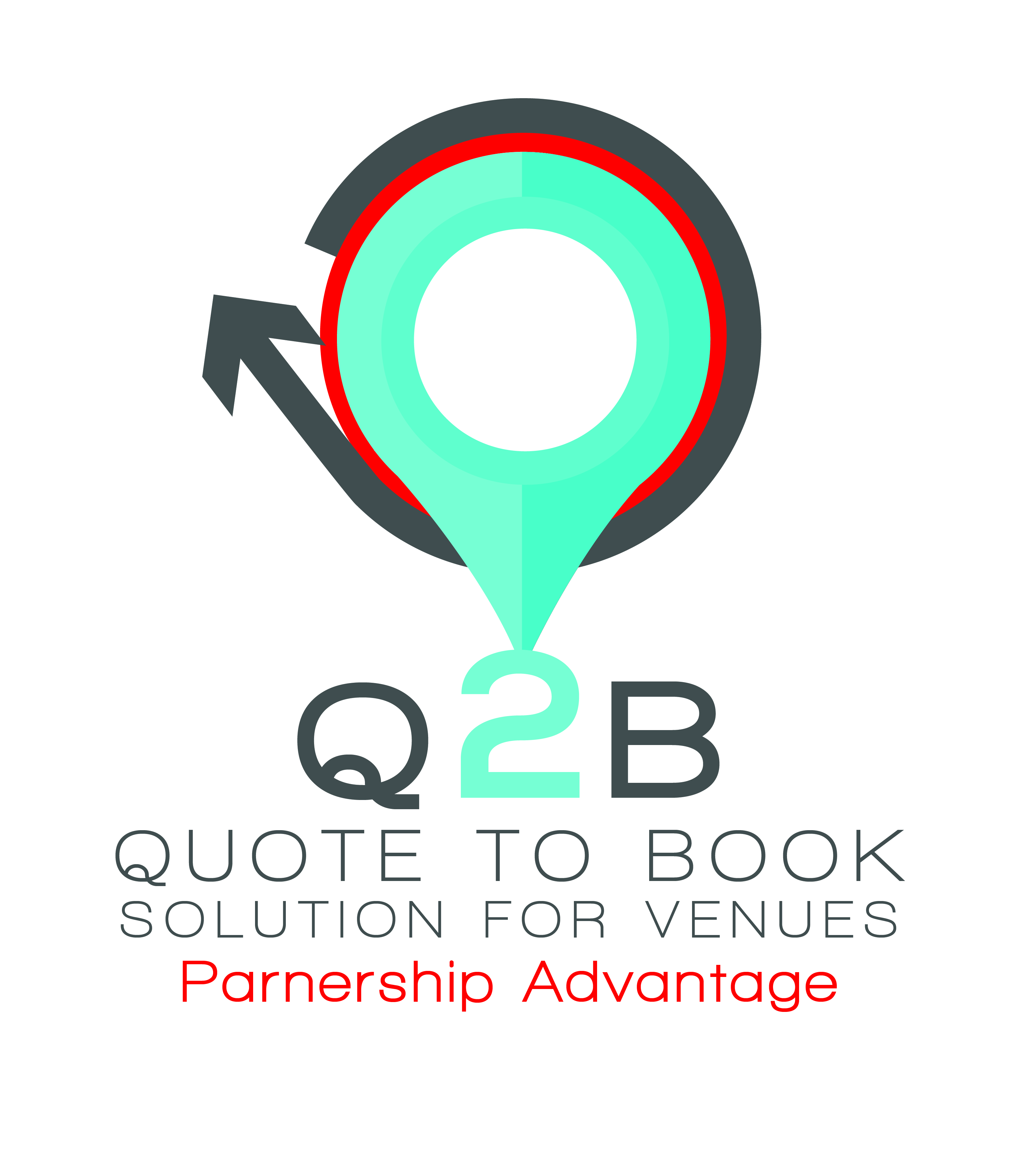 Because together we make it better ...
OUR-VENUE.COM

We live in the age of instant gratification. Customers love to interact with businesses who appeal to their way of life, and meet their expectations. Our-Venue.com is an online platform tailor built for venues, enabling them to meet their client's expectations. Each venue has their own customized web app that they can use to bring in more enquiries. The app enables potential clients to play around with everything that the venue has to offer. Brides can now build their own wedding packages in the comfort of their own home, resulting in more enquiries and a higher conversion rate. The exact same can be done for conferencing and functions
Cuisine Software

Reliable and affordable service and Software for the Leisure industry. The Cuisine software POS integrates seemlessly with Q2B and is extremely affordable and VERY easy to use. World class software developed locally with special pricing for Q2B customers.
TravelPal

Travelpal is set to take South Africa's travel industry by storm with a comprehensive marketing platform that provides you with a smart set of tools to showcase your property and increase your bookings. Leave the marketing to us, we will captivate and inspire your target audience to enjoy the finer things like; traveling, delicacies and fun activities, ensuring that your property always remains top of mind. Contact us: info@travelpal.co.za or visit our website for more details http://travelpal.co.za/
SK Sambu Tours and Transfers

Sk Sambu Tours and Transfers. SK Sambu Tours and Transfers is a Tour Company based in Tembisa, Johannesburg. Tours are offered by Professional experienced Tour guides in English. SK Sambu Tours and Transfers offer day tours around Gauteng Province, Sun City Resort and Pilanesberg National Park. We also package Pilanesberg National Park Overnight Safaris and Kruger National Park Overnight Safaris. Contact us: 083 238 6749 | 084 922 9843 | sksambu@gmail.com | www.sksatours.weebly.com
Route2Roots

Nothing Happens Without a Sale! Route2Roots Destination Marketing provides an innovative and highly effective plug & play solution tailored to your hospitality offering. We understand that your offering is unique in its location, internal culture, management structure, amenities, position, policies, and competitive set. We work with you and your team to understand and implement adaptive, sustainable strategies focused on customer retention and growth! Our skill set focuses on Customer Relationships, Market Share & Revenue. Customizable and Adaptable - Our solutions are customized for each unique offering and our model allows us to quickly respond to changing market trends and competitive innovations. Integrated or Stand-alone - While many of our existing clients have an in-house sales team, they still look to us to provide additional support and augment their efforts in critical market segments. www.r2rsa.com
Camp more 4 less

www.memberparks.blogspot.com Campmore4less provide free promotional services and advertising space to holiday resorts with camping facilities in exchange for discounted accommodation tariffs to our members. We extend the same service to member-merchants in exchange for a discount on their products. Our members pay Campmore4less a yearly membership fee to enjoy the discount from member-parks and member-merchants.
Tango Business Consulting

Tango Business Solutions are Authorized and Qualified Sage Pastel Business Partners providing sales, support and training in Sage One (on-line accounting and payroll) as well as Sage Pastel and Sage Evolution. We are also Sage Pastel Partner Payroll and Sage VIP Business Partners. By using our understanding of business, our purpose is to create ways and means for our customers to build prosperous and sustainable businesses. We believe in assisting our customers in meeting their objectives through a process of knowledge sharing and collaboration, so that they can be free to do business their way and realise their ambitions. So whatever your Sage Pastel requirements, we are the team to contact.
Alles Magazine

Mouthpiece to the Adventure Education Industry in South Africa As a free publication focused on the Adventure Education Market, you are ensured a substantial voice into a highly competitive market. ALLES represents the ongoing Adventure Industry Market trends, products, concepts, service providers and New Regulations. We have a huge platform that includes venues specifically developed for large group facilitation with various outcome based programs. With our Endorsement Agreement with ROAG Academy we supply CATHSETA Training for all camps and facilitators. We have become the benchmark for the School and Group Based market and our readers regards the magazine as visually appealing, editorially relevant and a must have as a reference point in planning and tours. Contact us on sales@allesmag.co.za and 0645090918 or visit our online reader at www.issuu.com/allesmagazine
MY GUY Consultants

www.my-guy.co.za My-Guy Consulting is an Authorized and Qualified IQ Retail Business Partner providing sales and installations for IQ Retail. As from January 2017 My-Guy Consulting has been tasked with Modular Training for IQ Retail nationally and internationally. With commitment to customer care at the forefront of our operations you know you are with the right team when it comes to meeting your IQ Retail requirements. Our experience in servicing the business community gives us the edge in assisting you to achieve your business goals. My-Guy Consulting – the IQ Retail Business Partner that looks after your IQ Retail requirements.
Social Media Machine

www.socialmediamachine.co.za Social Media Machine is a unique and innovative time saving solution that enables you to communicate with a broad audience across multiple social media networks simultaneously. By creating and publishing a single advert on Social Media Machine, your advert will automatically be published on your configured social media profiles and will display as if it was posted directly from the social media platforms. Social Media Machine will streamline social media advertising for mass marketing and give you the edge in the market.
Engelbrecht Employment Law

http://www.elawpro.co.za/ Engelbrecht Employment Law Professional's aim is to create an employment environment suitable to both Employers and Employees. We set the trend for high quality Labour law assistance! Attendance at the CCMA, Labour Court and Bargaining Councils. We can offer employment contracts, policies and procedures, disciplinary enquiries, counseling sessions, warnings, time keeping, union activities, grievance meetings, health and safety issues, assistance with induction of new employees, conducting of interviews. Some of our value added services are our cost effective Payroll administration, Bargaining Council Registrations and calculations, UIF Registration and calculations, COIDA registration and calculations, Pay As You Earn (PAYE) assistance, BBBEE, Employment Equity, We can assist you either as a full member who joins for a once off audit fee (includes the drafting and/or rectifying of employment contracts, policies, disciplinary code and procedures) and a monthly retainer for keeping your business on the go with Labour matters. In the alternative you can make use of our ad hoc services, which is more expensive than a full member and you will pay as you go. Contact Marthie Engelbrecht Marthie Engelbrecht mengelbrecht@elawpro.co.za
ADSSA Web Solutions

www.adssa.co.za ADSSA (a division of Woodlands Business Systems CC) is a well-established web solution business. Our services include the following: Hosting & Support, Online Marketing, Php Programming, Online Database Applications, Social Media Marketing, Virtual Tours, Web Design, Social Media Management, and Video Production for Social Media Marketing, Business Referral Network, Whiteboard Animation, Online Directory Advertising, Lead Generating Systems and Online Business Opportunities.
Outdoor Heartbeat

www.outdoorheartbeat.com tours@outdoorheartbeat.com Outdoor Heartbeat (Pty) Ltd is a South African based tour operator. Our passion for birding was fundamental in the establishment of this organization. We believe in excellence of service and our vision includes individual professionalism and the benefit of our community based partners, particularly in rural areas where we strive to improve life at all levels and restore dignity. We offer unique and specialized tours in the following tourism categories in Southern Africa: Birding, Nature and Wildlife, Culture and History, Fly-Fishing, Catch & Release, Various Adventure Related Expeditions, Customized Tours for your Specific Interests.
Birdwatcher

www.birdwatcher.co.za/birder-friendly-venues/ We can help you to create a birder friendly venue. Birdlife SA allows birder friendly venues to list on their website at a very affordable fee, however to be listed you need to comply with certain rules and regulations. Birdwatcher can help you to achieve these requirements. Birdwatcher can also arrange training for community birding guides. Birding hotspots is our initiative to provide our visitors with the opportunity to explore a birding route virtually in the comfort of their own space. With the 360 degree view of the area you can experience the whole scene, find what birds you can expect and what the terrain looks like. Please contact us should you need more information in this regard.
Tourism Marketing South Africa

www.headwaydigital.co.za Tourism Marketing South Africa is a digital marketing agency specialising in Southern Africa's Tourism Industry. Independent establishments like Backpackers, B&B's, and Guesthouses, Lodges, Restaurants and Wine farms is our focus. In the tourism industry, you're Website and Social Media sites should be your #1 priority. We do everything in our power to drive more direct bookings to your website and social media sites. We keep up with all the latest trends, techniques and developments to provide you with the most effective online marketing strategies, website design, content creation and social media campaigns. We have a passion for marketing and we enjoy what we do. We strive to keep our clients happy and provide a friendly service, give honest advice and reasonable priced services to our clients.
Wild Art

http://wildart.org.za/shop/ Wild Art is an initiative born from the passion for photography and design. We follow a unique approach by fusing professional photography and exceptional artistic design to create art that speaks for itself. Exclusivity is our aim, limited prints will be made of a specific design. The base of our artworks is professional wildlife and landscape photography, capturing a special or unusual moment that creates feeling and in some cases movement in a single photograph. These photographs are manipulated by using the latest design software to create a very unique piece of art. Wild Art also produce specific theme-driven productions, suitable for corporate businesses, small businesses, guest houses, game lodges, consulting rooms, stylish dwellings and apartments.
Hospitality Service Masters

The hospitality industry is one of the fastest growing industries and Hospitality Service Masters was established to fill the need for professional customised training in the hospitality industry and skills development of individuals who are employed in the industry. The founder, Benita Bezuidenhout has vast experience in the industry and training of Food & Beverage, Housekeeping and Reception staff. We offer training programmes in these fields from entry level to advanced managerial skills, as well as hospitality consulting for new and established venues. Other services include Skills Development Facilitation, Assessment and Moderation. We facilitate professional wine knowledge and service training, team building and fun food and wine pairing events.
PDM Africa

CCTV Systems view your cameras from anywhere on your phone or smart device, Alarm Systems wired and wireless solutions indoor and outdoor, Gates and Gate motors complete access control, Intercom systems wired and cell phone systems audio and video. Electric fencing that is issued a COC Biometric solutions for access control or time attendance. We also offer service level agreements, depending on your needs. Satisfied clients - Courtyard hotel, Stay2Live Guest houses, Burger King, Ocean Basket etc. Contact us for a free quotation. Gerhard Gibson 082 457 2582 / gibson@pdmafrica.co.za or visit our website www.pdmafrica.co.za