Online Activity Booking - Adventure Zone

If you are experiencing difficulty please contact us at
Tel no: 012 734 0507 l 065 112 7572 or email us at cullinan@adventurezone.co.za
Return to our site
Abseil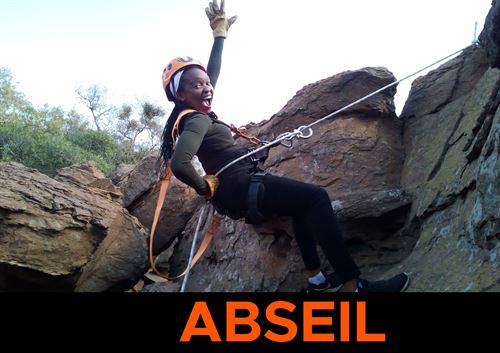 Pick a Date
- date unavailable
Pick a Time
Duration: 3 hours (The duration will depend on the skill level of the group)
Price per Person from: R600.00 (This rate is applicable per person per time slot)
Price per Child from: R600.00 (Child older than 12 years)
PLEASE ENSURE THAT YOU ARRIVE AT MUNINGI GORGE 1 HOUR IN ADVANCE TO SIGN YOUR INDEMNITIES
Abseiling, or rappelling as it is called by many mountaineers are sliding down a rope under controlled conditions. The term comes from the German word "abseilen," which translates as "top rope down."
PLEASE NOTES:
You will require your own transport from Adventure Zone to Muningi Gorge (more or less 15km from Adventure Zone)
Restrictions: Age restriction: Children 12 years and older
Group size: 2 – 10 people per session
Duration: 3-Hours
What to wear: Comfortable walking shoes. Hat and sunblock.
Included in price: All safety and protective gear supplied.