Online Activity Booking - Adventure Zone

If you are experiencing difficulty please contact us at
Tel no: 012 734 0507 l 065 112 7572 or email us at cullinan@adventurezone.co.za
Return to our site
Couple Special - Option 1 (Quad trail / Archery / Pizza & Beer)
Pick a Date
- date unavailable
Pick a Time
Duration: 0 hours
Price from: R1500.00 ()
Quad Safari.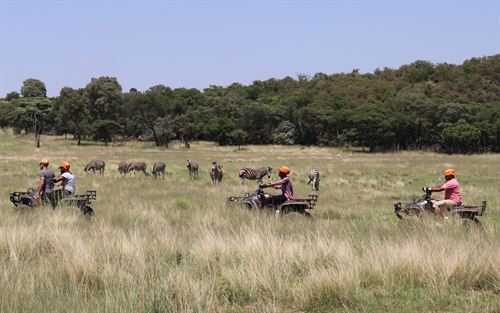 Pick a Date
- date unavailable
Pick a Time
Duration: 2 hours (Please arrive 1-hour before your Time slot booked)
Price per Person from: R930.00 (This rate is applicable per person per time slot)
Price per Child from: R300.00 (Children accompanied by Adult - Between ages of 5 - 15, may be lifted)
PLEASE ENSURE THAT YOU ARRIVE AT MUNINGI GORGE 1 HOUR IN ADVANCE TO SIGN YOUR INDEMNITIES

" An experience of a lifetime!!.." What better way to experience African wildlife than from your own automatic quad bike. A 25 km trail through an amazing game farm with stunning views and sights. Includes a halfway stop for drinks, and maybe a swim.
PLEASE NOTE:
Age restriction: Children 16 years and older will be allowed to drive a quad
Group size: 2 – 10 persons per session
Duration: 2 Hours
What to wear: Comfortable closed walking shoes. Hat, sunblock and swimwear.
Included in price: All safety and protective gear supplied. Helmets compulsory and Beverage halfway
Quad Trail.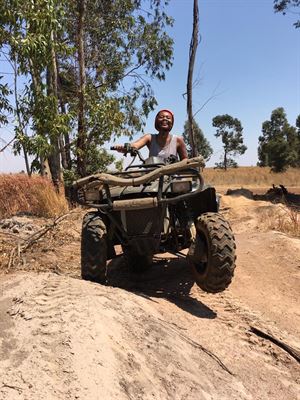 Pick a Date
- date unavailable
Pick a Time
Duration: 1 hours (Please arrive 1-hour before your Time slot booked)
Price per Person from: R600.00 (This rate is applicable per person per time slot)
PLEASE ENSURE THAT YOU ARRIVE AT MUNINGI GORGE 1 HOUR IN ADVANCE TO SIGN YOUR INDEMNITIES
Enjoy an 8 km quad trail that takes you through beautiful bushveld, stunning views, challenging obstacles and interesting landscapes. Our qualified guide will assist where necessary to navigate the trail
PLEASE NOTE:
Age restriction: Children 16 years and older to drive a quad
Group size: 2 – 12 people per session
Duration: 1 Hour
What to wear: Comfortable closed walking shoes. Hat and sunblock.
Included in price: All safety and protective gear supplied. Helmets compulsory